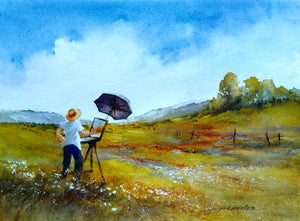 Paula Christen
Painted Hills - original watercolor
Regular price
$1,200.00
$0.00
Unit price
per
Artist painting on site (plein air) in the spring, in the mist of wild flowers, green field and under a blue bird sky. This watercolor image  is 11 x 15 , painted on paper.
Plein air painting, with it's quick brushstrokes and captureing the landscape in natural light came into popularity in the 1680's. It is associated the French Impressionists who made it popular, like Claude Monet and Pierre August Renoir.
Installed in double white mats and framed in traditional wood plein air frame frame, with a gold finish. With frame, measures 22" high x 26" wide.